Dance Place Challenge
New Year, New Classes, New You
We're making it fun to try new classes in the new year! Through the month of January, grab a #DancePlaceChallenge card when you sign in – for every "bingo" you complete, get bragging rights and prizes!
1 row, column or diagonal PRIZE: 5ClassPass
3 rows, columns or diagonals PRIZE: 10ClassPass
At the end of the month, all Challenge Winners will be entered into a raffle to win a super secret swag bag packed with Dance Place goodies!
Plan out your strategy with this sample card: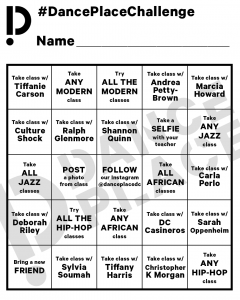 Limit one card per household. Cards must be marked off by the studio manager at the desk upon class purchase or task completion. Prize delivery and raffle drawing will take place on February 1. Prizes will not be mailed and must be picked up in person at Dance Place. Master Class Series not eligible for #DancePlaceChallenge.