Legacy Onward
Honor Carla & Deborah's leadership
Sustain this season's programs
Propel Dance Place's mission forward
Schedule Recurring Donation Now »
Add your name and photo to our Legacy Onward Wall of Fame!
o   $2,500                   Large circle with photo & name
o   $1,000                   Medium circle with photo & name
o   $500                      Small Circle with name only
o   $250                      Smallest Circle with name only
**We'll contact you to receive your photo which will be displayed in our lobby.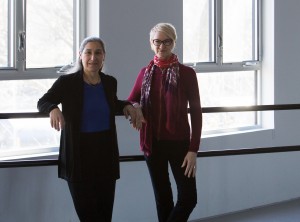 "Carla and Deborah have a truly unique partnership that has always moved Dance Place forward with inclusiveness and excellence. Their foresight and commitment, along with their excellent staff, has put Dance Place on the map locally in the Brookland / Edgewood neighborhood, nationally and internationally." – Jannes Gibson, Board Chair
"I believe that the arts and creative education are the heart and soul of our society. Creative pursuits are pathways to a peaceful, more humane society, where we can applaud our differences and celebrate our similarities. Dance Place has provided me with extraordinary opportunities to express myself through dancing, teaching, choreographing, performing and presenting. I am more than grateful for the board members, staff members, funders, volunteers, audience members, students and performing artists who have helped me realize my artistic vision over these 35 years of leadership." – Carla Perlo, Founding Director
"It's been a joy to contribute to Dance Place's evolution and to have a home among the many inspiring artists, faculty and staff that are the heart of our organization. The power of dance and the arts brings us closer to our true selves and therefore with each other. From toddlers to elders, dance is an experience that unites body, mind and spirit helping us to celebrate and understand our world. I'm grateful for the many artistic and leadership opportunities that have allowed me to work directly with our wonderful board members, donors and community partners to help Dance Place be the cultural jewel that it is." – Deborah Riley, Director
Schedule Recurring Donation Now »
Header photo: Carla Perlo & Deborah Riley. Artwork by Kate Tallent.