Announcing New Releases 2017 Performances!
We are so pleased to announce the 2017 line-up for our annual New Releases showcase, featuring the best and brightest of DMV choreographers. Buy your tickets today for this one-night only event on Saturday, May 6 at 8pm!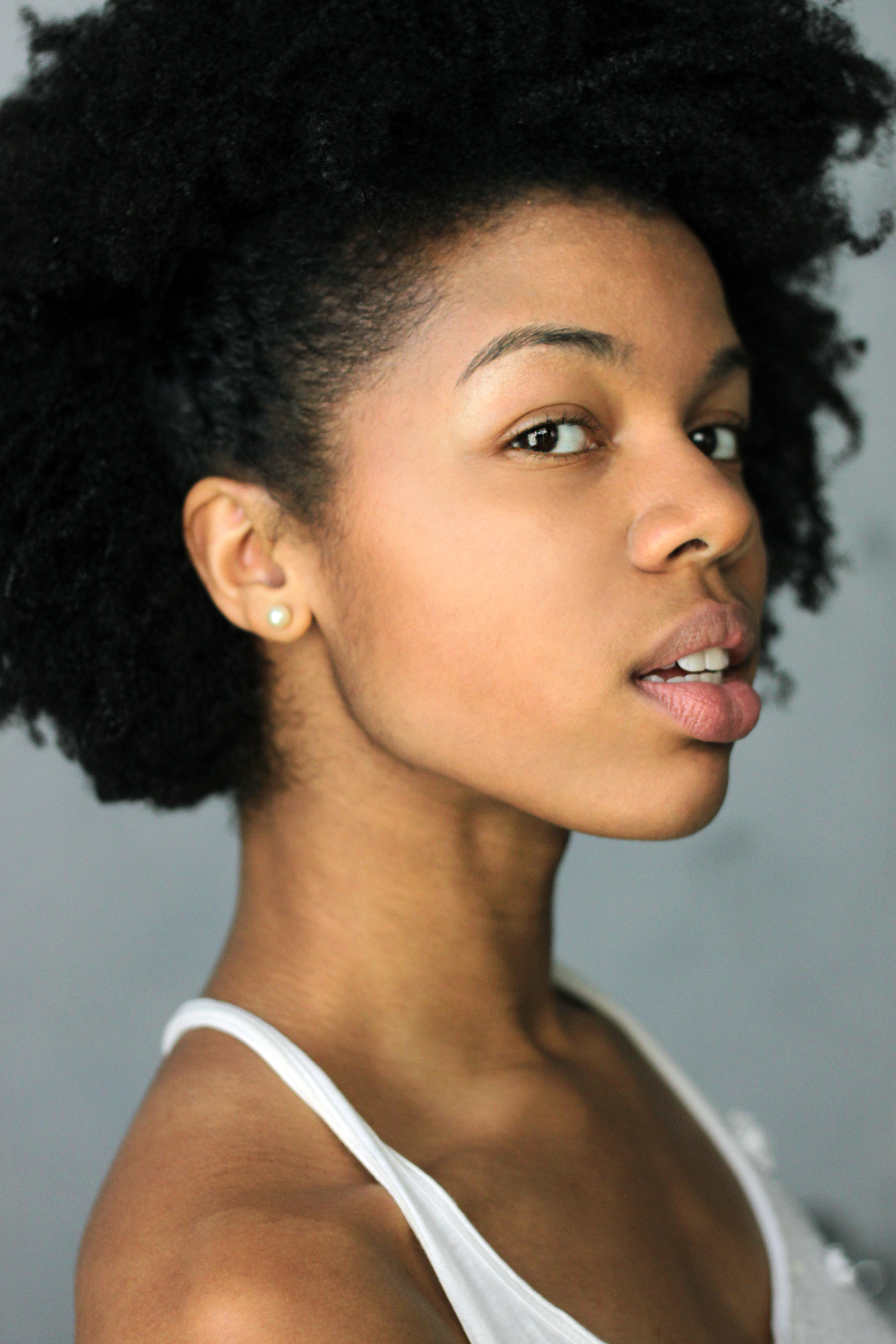 E Pluribus is a negotiation of our primal origins vs. our modern progression. The piece investigates the loss of our humanity as we modernize and dedicate ourselves to divisive symbols and structures rather than the bonds we find in our humanity.
About Briana Stuart
Originally from Detroit, Michigan, Briana Ashley Stuart received her Bachelors of Fine Arts in Dance and Bachelors of Arts in Sociology from the University of Michigan in 2013. Briana has performed and taught, nationally and internationally with Step Afrika!, the world's first dance company dedicated to the art form of stepping and contemporary dance company S.J. Ewing & Dancers at numerous colleges / universities,  Washington DC's City Rhythms Festival, Catholic University's Hartke Theatre, Velocity DC Festival, Capital Fringe Festival, Guantanamo Bay Naval Base as well as many others. She has performed in Dance Place's 2014 and 2016 New Releases Choreographers Showcase, Joy of Motion's 2014 Dance Project Showcase and the 2016 Hip-Hop Theater Festival Jack Ya Body Showcase. In 2015, she served as the assistant choreographer on the American Theater Company's production of The Project(s) in Chicago, IL, rated 4 stars by the Chicago Tribune. She collaborated with Hard Soles Dance Company on a new piece titled Re:set for the 2016 March on Washington Film Festival in honor of the 70th anniversary of the integration of the NFL and was chosen as Dance Place's 2016 New Releases Commission Recipient in support of her new work to be premiered the summer of 2017. Most recently, she taught a master class in stepping as well as performed her latest contemporary solo [wonder]ing in the 2016 ON THE ROOF Dansfestival in Brussels, Belgium.
For the Love of House takes House dance from its club origin to the performance stage. This piece embodies the soulful self-expressions, individuality and creative force that make this dance genre a celebration around the globe. This piece captures the club experience and demonstrates the freedom of movement through various sounds of House music such as classic, deep and soulful house dance tracks.
About Esperonto Bean
Esperonto Bean, one of the original House Dancers from Baltimore, is well-versed in many dance styles including House, Hip-Hop, Locking and Punking/Waacking. He is the founding director of Bmore Houseful, a dance company dedicated to House dance culture. He has recently established Bmore Houseful's Youth Hip-House Dance Company, DMV's first House Dance-based company for kids.
Mentored by the legendary Fluky Luke and the late Fred "ReRun" Berry of famed group "The Lockers," he became a member of the first Locking crew in the DMV area, GroovMekanex. Esperonto has danced with GroovMekanex as a special guest performer for the internationally recognized Rennie Harris Puremovement.
Esperonto was the co-recipient of the 2007 Kennedy Center Millennium Stage Imagine Choreographer Award. He was a premiere performer and master class instructor at the Meyerhoff Symphony Hall at ArtScape, Culture Shock DC, Coyaba Dance Theatre, Edgeworks Dance Theater, Lesole's Dance Project, The White House Easter Egg Roll, Georgetown University, Portland University, Earth Week on the National Mall and The Kennedy Center Millennium Stage.  He has opened for artists such as Barbara Tucker, CeCe Penniston, Robin S., Funk Master Flex, KRS1, Loon, K-Solo, Mix Master Mike and Dirty Vegas.
Over the past ten years, Esperonto has been one of the top Urban Dance instructors in the DMV. Esperonto was adjunct faculty at The Community College of Baltimore County and Howard Community College where he created and taught the first lecture course on Hip-Hop culture. Esperonto was the creator and director of H.Y.P.E., Joy of Motion's youth urban dance program, where he also directed the youngest youth company, RhythMix. Esperonto is the Director of Future Shock Freestyle Team in DC and currently choreographs for the #1 US Junior Competitive Ice Skating Team, Wheaton Ice Skating Academy.
Blood Orange explores the rhythms of spiritual liturgies and how they are sacred symbols for birth, death and sensuality.
About Klynveld&Peat
Klynveld&Peat is comprised of Carolyn Hoehner and Emily Iannotti who have been collaborating together since they met in college. Their dance careers have taken them to New York City, Beijing, London, The American Dance Festival, Seattle and Atlanta. Now reunited in Washington DC, they make dances as a way to cope with and engage life's uncertainties. They are inspired by human spirituality, the Marx Brothers, management consulting firms and the darling people who read artistic bios until the very end. 
Dabebabo – a person digging through layers. The silly to the dark, the words to the soul, to the drawing of human connections. An audience interactive work.
About Shanna Lim
Shanna Lim is a visual and performing artist utilizing many forms of dance, street performance and body painting to express, provoke and raise awareness of local and world issues. In pursuit of the dance muse, Shanna Lim has shattered boundaries that separate art from audience and her site-specific approach utilizes every aspect of her environment in its direct, intense and hypnotic effect. 
You may have seen works painted and poised in street architecture with sons, leading a veteran memoir promenade around the DC monument or diving on the roof of her car with very willing collaborators.

 From the rubble to the roof tops, she brings the quality of the stage to the streets and pulls onlookers into the heart of the performance, turning spectators into collaborators.
From the earliest years she was a freestyle form dance artist raised in the streets of House, Latin & Hip-Hop dance. Throughout her career, practices have lead performances across various movement styles including Body Weather, Latin, House, Thai, Reggae, African, Modern, Contact Improvisation and Hip-Hop. She's studied under PEARSONWIDRIG DANCETHEATER, Eiko & Koma, Naoko Maeshiba, Don Cambellock, members of the Electric Boogaloos, Loose Joint of Elite Force, Rennie Harris and many others. She has taught dance throughout Maryland, Washington DC, Costa Rica and has performed in New York, Costa Rica San Ramon Arts Festival and three consecutive Hip-Hop Theater Festivals. She has worked with Mason Rhynes, Holly Bass, Willi Dorner (Austria), Nita Liam (Netherlands), Somapa Thai Dance Company and toured with Tamara Wellons of Ocha Records. She has also body painted for Cirque Du Soleil, Shakespeare Theatre and many other events.
Shanna is co-founder of Hip-Hop youth organization 
Midnight
 Forum, a Hip-Hop Dance educator for Words Beats and Life, Art Educator at Youth In the Arts Imagine and founder of Inner Soul Projex Productions started in 1996. She is founder of "Thoughts in Glitter" body art and is an established body paint artist in the DMV.
See her u
pcoming work, "ExtroStreetroLightFunkTerrest
rial" on
April 1
,3 and 5 at Light City Baltimore, Davis & Elkins College Dance Festival and Artscape.
Merde delves into the experience of acceptance as the performers negotiate understanding how things change but don't change back.
About Tarik O'Meally
Tarik Darrel O'Meally was born Queens, New York and raised in DMV. He earned his BFA in Dance and Choreography from Virginia Commonwealth University. He has worked and performed with companies such as Johnnie Cruise Mercer / TheREDprojectNYC, Amaranth, in addition to  Abby Z & the New Utility. Tarik is currently a company member of the Marvin Gaye Dance Project, VT Dance and Ashani Dances. Tarik is a four-time, full scholarship recipient at  the American Dance Festival where he has worked and performed with Jenifer Nugent, Sara Procopio, Charles Anderson and T. Lang. His choreographic work has been presented at The Clarice Smith 34 Annual Choreographers Showcase, the Richmond Dance Festival, ARAS Dance series, Morgan State Univeristy and Coppin State University.