Let's Sit Together Awhile

Let's Sit Together Awhile is a public art project by Tim Kime and commissioned by Dance Place for the new 8th St Arts Park. Comprised of eight locally-sourced wooden dining room chairs, the project mimics and celebrates Brookland / Edgewood's unique diversity and eclectic community. Its whimsical feel and colorful appearance supports the current upcycling trend to enrich the site in an environmentally friendly way!
Written Stories of Bench Participants for "Let's Sit Together Awhile"
Tyron Bell
Clean . Green . Quiet
My story of living in Brookland begins in 1958. I was twelve years old when my family moved from Lincoln Heights. The reason why we moved here was my sister was working and adding income to the household; we lived in government housing. I'm not sure how much rent was but I do remember the authorities wanted to raise the rent by fifty dollars a month. My dad was not having that. He was furious, so we moved.
In 1999 after owning three houses of my own, my mom was needing help after my dad passed in 1998. I moved in to help. After she passed in 2006, my siblings  (sister and brother) and I agreed to a plan where I would be the new owner.
I started a handyman service here in Brookland in 1999 and somehow Tim Kime gave me a call for service. I began eleven years of handyman work for Tim who was one of the best clients I ever had.
As a youth I enjoyed the cherry trees, apple trees and all the basketball courts Turkey Thicket, Holy Name, Priory, Bunker Hill, Taft, etc.  As an adult I find delight in the friendly people here, the cleanliness, the greenness, the peacefulness of Brookland and the convenience of shopping and ease of access to transportation.
I have great love for Brookland!
Margaret Johnson
Welcoming . Comfortable . Safe
It was St. Anthony Catholic School that first brought my family to Brookland nearly 50 years ago when my four children were school-aged. The school and the Catholic church were big forces in our lives then and continue to be today but in new ways. Since 1969, I have lived in a quaint cottage-like home on Newton Street, just steps away from the school and the 12th Street corridor.
While I've seen many changes in Brookland, it was comfortable and welcoming then and is comfortable and welcoming today. The neighborhood was mostly white then and while some neighbors were against the changing demographics, others welcomed it—and us—with open arms.   Families of all races and backgrounds would attend gatherings at each other's homes for Easter egg hunts, backyard barbeques and holiday sing-alongs.
The neighborhood has had a positive impact on my children who grew up with good memories here. While Pope Francis visited Brookland in September 2015, it was not the first time we were close to the pontiff. My family and I met Pope Paul VI while in Rome and also met President Richard Nixon and First Lady Patricia Nixon in The White House, as a result of the children attending St. Anthony's. Back then, a Master's student at Trinity College created the National Children's Choir comprised of youth selected from nearby schools–including my kids.   As chaperones, my late husband, Freddie and I accompanied the choir when they sang for and met these two different world leaders in their respective homes.
Today, I am always on the go, heading to family reunions in Martha's Vineyard, performing with Seniors Who Move, a local tap dance group or attending my five grandchildren's many activities. However, no matter where I travel, I am always so happy to return home to Brookland.
Nantz Rickard
Verdure . Eclectic . Zoetic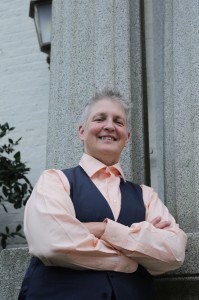 I live and work in this great neighborhood—the inimitable Brookland! I moved to Brookland in 1989, when it was largely a neighborhood of people who had lived here for many generations. I have always enjoyed its trees, its friendliness, neighbors helping each other out, and the interesting range of architecture, spaces, gardens and people's stories and experiences that make up the interesting and multihued, rich character of Brookland and its history.
Brookland is also home to the city's own local cable television channels and production facilities. As President and CEO of the Public Access Corporation of the District of Columbia, known as DCTV, I worked closely with some great residents, like Tom Rooney, Vinnie Wohlfarth, Lisa Farrell, Diane Pecor, Angie Corley and many, many others as I pursued having DCTV move to Brookland, to provide its valuable resources and services to city residents and organizations out of Brooks Mansion. At the time, Brooks Mansion was an endangered historic building that the community had previously fought long and hard to save from destruction and have it designated both a local and a National Landmark on the National Historic Register. However, it was in bad disrepair for years. After a multi-year effort and an extensive renovation, DCTV has been operating from Brooks Mansion since 2002, with the adaptive use and work done by DCTV resulting in our Board Chair, Kojo Nnamdi and I receiving the great honor of being awarded the 2002 Vision Award from the Committee of 100 on the Federal City. With great support from our Brookland neighbors, Mayors Williams, Fenty, Gray and Bowser and the entire DC Council, including many years of committed and unflagging leadership by Vincent Orange, DCTV continues its almost 30 years of serving District residents and organizations, teaching them how to use state of the art production facilities to produce television programs, providing opportunities for youth participation and education, and telecasting programming on DC's own local public cable channels with programming almost entirely provided by the public itself, in the program creators' own voices—one of the many unique gems in this incomparable neighborhood. That, and I have the best neighbors!
Lisa Rosenstein
Small Town Vibe
In 2012 I was planning a move from my home in NW DC and wanted to find a neighborhood with a creative vibe. So I did what anybody would do, sat down at my computer and typed in "artsy neighborhood in dc". Up popped Brookland Artspace Lofts, Dance Place, Wohlfarth Galleries, Monroe Street Market Arts Walk and the neighborhood I am currently living in, Chancellors Way. I had found the mother-lode!
Coincidentally, long-time friends Esther Siegel and Michael Tabor of Licking Creek Bend Farm have had a market under the Michigan Ave Bridge every Tuesday for many years and spoke very highly of the neighborhood. Another friend, the artist Cheryl Edwards has a gallery at the Arts Walk. And a good friend of mine, the East City Art writer Eric Hope had moved into the neighborhood a year earlier. I made my choice, the Edgewood/Brookland neighborhood was for me.
Now it's 2016, I've lived and made art in my new home for over 3 years. I Walk to the Post office, CVS and Yes, enjoy a cup of coffee at Filter, visit the Basilica or the Franciscan Monastery, attend performances at Dance Place, art openings at Wohlfarth (I met Lavinia years ago) and Edgewood Arts (where another friend Kristina Bilonick has space, she also works for Menkiti).  On top of it all the public transportation is fantastic.
I am grateful for the opportunity I had to show my work at Carla Perlo's Gallery 21 at the Arts Walk in 2015. (Many thanks to Carla and my friend the artist Jim Cassell who introduced me to Carla in 2014.)
Michael Thomasian
Gem . Diversity . Character
I moved from Boston to Brookland in 2000 to serve in Americorps teaching program.
I was placed as a 4th grade teacher at St. Anthony. I taught several grades throughout the years and eventually became principal.
My wife and I met in the volunteer program and married in 2004.
We own a lovely home at 10th & Newton and have 4 children.
I love the diversity of the neighborhood, including the many Catholic communities and organizations!
I love the people and places that make Brookland so special.
Whether it is a Franciscan friar, an elderly neighbor, or a new family every neighbor has been wonderful!
About Tim Kime
Tim Kime, a Brookland resident for 22 years, is an artist and life coach. He is Founder & Creative Force of Transformation Junkies which upcycles furniture and other household items. He is also the President of Kime Leadership Associates, which offers coaching, meeting facilitation, motivational speaking and team building. Tim combined his two passions with the Spring 2015 launch of his Art of Possibilities Workshops that are part repurposing, part dreaming and part goal-setting. Goodwill of Greater Washington, Covenant House Washington, Leadership Montgomery and Pathways, DC are among the groups that have hosted these transformational sessions for their employees and members.
About the 8th St Arts Park
Dance Place is transforming the empty alley next to our building into a hub where neighbors come together. With a dedicated staff, unique creative design, robust schedule of activities and 100% FREE programming, the 8th St Arts Park will strengthen the artistic, vibrant heart of the Brookland / Edgewood neighborhood. Leading the charge in responsible revitalization, our Arts Park is the first community park in Brookland / Edgewood NE DC built by neighbors, for neighbors.
"Let's Sit Together" was made possible through funding from the DC Commission on the Arts and Humanities' Public Art Building Community Grant 2016