NEWS: CKM in Washington Post

In case you missed it, Christopher sent a message to our subscribers with a message in response to the amazing Washington Post article featuring him in his new role!
Dear Dance Place friends and family,
It is with immense joy I write to you for the first time as Executive Artistic Director of Dance Place.
I'm so grateful to Founding Director Carla Perlo and Co-Director Deborah Riley for the past three weeks of training they have shared with me. Our leadership transition has been full of vast learning, open-heartedness, deep respect and mutual admiration. I'm equally grateful that the Dance Place staff and board had the wisdom to invest in this indispensable overlap period.
Carla and Deborah will always remain a critical part of the Dance Place family as they assume their new roles as Directors Emeritus on September 1. And now, with the swirling power of building momentum, I'm looking forward to launching into my new role. My first few weeks at Dance Place have inspired me to dream about the future. Take a look at the article in this weekend's Washington Post for insight into some of my ideas for the future of Dance Place. We are so grateful to Sarah Kaufman for her interest in Dance Place's continuing development.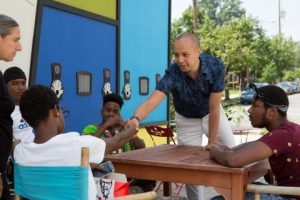 As we embark on the appropriately named 2017-2018 Momentum Season, I look forward to meeting all of you in the theater, the classroom, the 8th St Arts Park or in any of the myriad ways we can be involved in Dance Place together. Keep your eyes peeled for special Meet the Director events, including our season opening performances by BodyCartography Project on September 16 and 17 or the Momentum Season Gala on October 21.
To those of you I already know from my many years in the field and as a member of the Dance Place community, I look forward to deepening our relationships in my new capacity. To those of you I have yet to meet, I look forward to creating a bright and vibrant future together in dance.
With excitement and gratitude,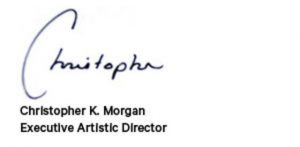 Photos by Willis Bretz.