NEWS: Congrats to our 2017 New Releases Commission

Congratulations to Tarik O'Meally, the recipient of Dance Place's 2017 New Releases Commission! The commissioned work will premiere at the 2018 New Releases Choreographers Showcase on May 26, 2018. Dance Place's annually curated showcase features some of the best new works by established and emerging choreographers.

About Tarik O'Meally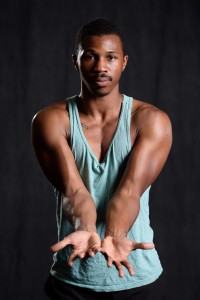 Tarik Darrell O'Meally was born in Queens, New York and raised in DMV. He earned his B.F.A in Dance and Choreography from Virginia Commonwealth University. He has worked and performed with companies such as Johnnie Cruise Mercer/The RED project NYC, Amaranth, in addition to Abby Z & the New Utility. Tarik is currently a company member of the Marvin Gaye Dance Project, VT Dance lead by Vincent Thomas. He is also a company member of Ashani Dances under the artistic direction of Iyun Harrison. Tarik is a four time, full scholarship recipient at the American Dance Festival. As a choreographer, his work has been presented at The Clarice Smith 34 Annual Choreographers Showcase, New Releases Choreographer Showcase, the 15th Annual Richmond Choreographer Showcase, the Richmond Dance Festival, the Baltimore Theater Project, ARAS Dance series, Morgan State University and the Mid-Atlantic North  Gala performance at the American College Dance Association. Tarik, the artistic director of the UNUM Dance Collective, is the 2016-2017 Artist in Residence at Coppin State University. He is the 2017-2018 New Releases Commissioned Artist.